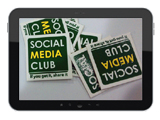 De 10e editie van Social Media Club Apeldoorn ging over Media en Social Media.
The Content Guys hebben al een mooie samenvatting van de bijeenkomst gemaakt: "NU.nl en The Webman over de ontwikkelingen in online media"
Hieronder mijn tweets en beide interessante presentaties van die avond. Natuurlijk kan je ook alle tweets met #SMC055 teruglezen.
Ticket besteld voor #SMC055 op 12 mei over Media en Social Media http://t.co/VS6QvJnzDo

— Paul Overmars (@POtwello) May 6, 2014
Op naar #SMC055 "Media en Social Media", over de rol van nieuwe technologieën op de huidige media en de impact op het brengen van content. — Paul Overmars (@POtwello) May 12, 2014
@ReneSchipper tot zo!

— Paul Overmars (@POtwello) May 12, 2014
Tijdens #smc055 vertelde @brechtjedeleij van Nu.nl over: content + context + personalize = relevance = engagement. — Paul Overmars (@POtwello) May 12, 2014
Design trends: long websites, flat design, hero image & sticky topnavigation. Ook gave voorbeelden animated scrolling door @ollieno. #smc055

— Paul Overmars (@POtwello) May 12, 2014
NU.nl en The Webman over de ontwikkelingen in online media #smc055 http://t.co/WpU286VKZH via @contentguys — Paul Overmars (@POtwello) May 13, 2014
Omni-channel consumer volgens Sanoma bij #smc055: telefoon (voor werk), desktop (rondom lunch) en tablet (bank/bed). pic.twitter.com/NuDfxaUn6I

— Paul Overmars (@POtwello) May 13, 2014
The Future of Media and NU.nl
Brechtje de Leij – Sanoma
Online trends 2014
Jeroen Olthof – The Webmen