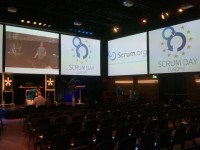 Presentaties van dit event boordevol scrum inspiratie.
Het was de vijfde editie van Scrum Day Europe maar voor mij het eerste bezoek. Een zeer interessant programma waardoor het nog lastig was om te kiezen bij de verschillende break-out sessies.
Morgen naar Scrum Day Europe. Zo'n interessant programma @ScrumDayEU dat presentaties en workshops lastig kiezen is! https://t.co/nq88MEcLGW

— Paul Overmars (@POtwello) 6 juli 2016
Uiteindelijk heb ik voor onderstaande presentaties gekozen. Over de meeste presentaties heb ik een aparte blog geschreven. Van anderen vind je hieronder wat er bij mij is bijgebleven.
"Scrum Turns 21, what is next for Scrum for the next 20 years"
Lees de blog: "Verbeteringen en innovaties binnen scrum"
"Saying goodbye to command and control for good: how completely hierarchy-free companies can take Scrum to the next level"
Lees de blog: "Agile transformatie"
"Value-driven product development at Scale @ ING"
Lees de blog: "Agile werken"
"Vision of a responsive enterprise"
door Vikram Kapoor (Prowareness)
Vooral de tip om dit artikel "Why Software Is Eating The World" te lezen. Daarnaast minder schaken (strategie en plannen) en meer Angy Birds (proberen en opnieuw proberen).
"The systemic Scrum Master"
Lees de blog: "Scrummen met passie"
"Eneco, a heart on Agile fire!"
Lees de blog: "Volwassen agile"
Retrospective: "Twenty years of Scrum"
Lees de blog: "Scrum Guide"
"Struck by the Beauty of Scrum!"
door Bas van Tol (Politie Nederland)
Het slotwoord was aan een lokale politieagent die is gevallen voor de schoonheid van scrum. Waar in 2011 met acht scrumteams werd gewerkt, zijn dat er vijf jaren later bijna drie keer zoveel. Twee grote successen worden uitgelicht:
Agenten op straat met apps op smartphones, voor het scannen van een rijbewijs of vingerafdruk.
De nieuwe website met 2,1 miljoen bezoekers per maand en in 2015 uitgeroepen "Website van het jaar".
Aan de basis van dit scrumsucces staan "happy people" en "leaders who let them shine".
Present! @ScrumDayEU pic.twitter.com/ijrszRYIk3

— Paul Overmars (@POtwello) 7 juli 2016
Met gepersonaliseerde programme guide 🙂 pic.twitter.com/VoNkhkL0Uq

— Paul Overmars (@POtwello) 7 juli 2016
Gave presentaties gezien bij @ScrumDayEU, organisatie @ProwarenessNL bedankt! Erg benieuwd naar de verdere ontwikkeling van #scrum. #sde16

— Paul Overmars (@POtwello) 7 juli 2016